The Bureau, an independent governing body and public service provider for Sint Maarten, is incorporated by law, in the field of Intellectual Property on October 1st, 2015. The services of the Bureau are aimed at securing IP rights for individuals, entrepreneurs and (larger) companies that are established nationally, regionally, and internationally, doing business, or creating and selling (artistic) works in or from Sint Maarten.
The Bureau maintains a neutral position towards the public. One of its main tasks is to provide information on all procedural aspects relating to intellectual property rights on Sint Maarten, namely trademarks, patents and copyright. Given the fact that the Bureau is neutral and objective in its service to all entrepreneurs, individual (legal) advice is proscribed.

We work closely together with the Benelux Office for Intellectual Property (BOIP) for the registration of trademarks. We also provide an online register which enables you to search for trademarks that are already registered.

Our office is located in the center of Philipsburg and you can reach our staff via e-mail or phone. Call or email us for more information or to make an appointment.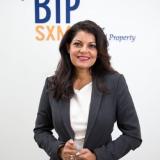 Aarti Jusia-Ramdihal
Policy and Communications Advisor - Deputy Director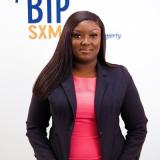 Amanda Ramirez
PR Officer/ Executive Secretary
Supervisory board
The Supervisory board members of the Bureau for Intellectual Property Sint Maarten are appointed by National Decree as per art. 8 of the National Ordinance BIP SXM. 
The tasks and responsibilities of the Supervisory board is (further) regulated in art. 14 of the National Ordinance BIP SXM. 
Appointed Supervisory Board members: 
Ms. Sophia Brown

Mr. Edsel Gumbs

Mr. Cresburk Browne