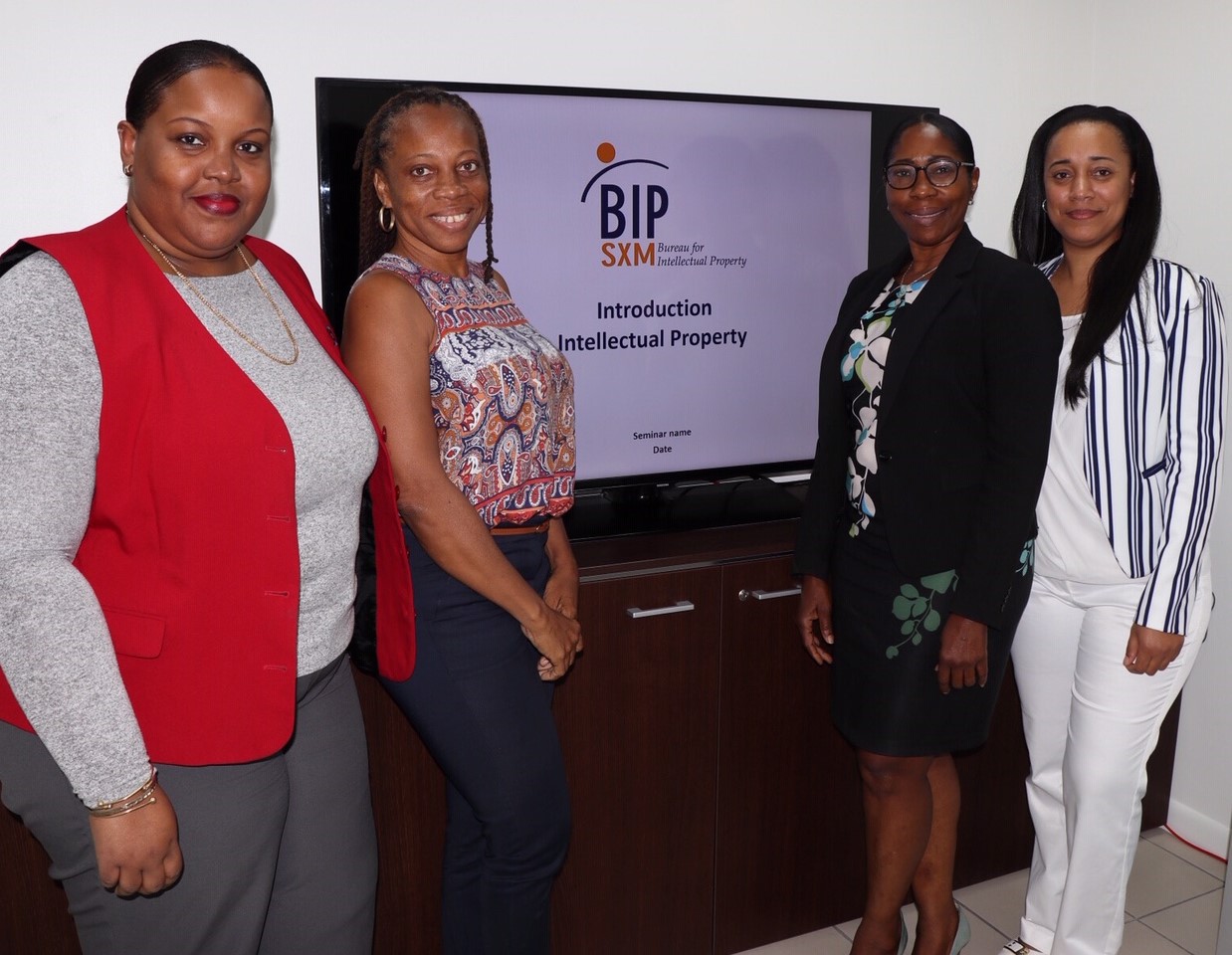 Picture(s) with names from left to right: Ms. Sophia Brown (Vice Chairperson), Dr. Rhoda Arrindell (Member), Mrs. Glennis Vlaun (Chairperson) and Mrs. Vincentia Rosen-Sandiford (Director).
As of December 2018, new Supervisory Board members for the Bureau for Intellectual Property Sint Maarten (the Bureau) have been appointed by the Minister of Tourism, Economic Affairs, Transport & Telecommunication (Minister of TEATT). The (new) Board members are Mrs. Glennis Vlaun, Dr. Rhoda Arrindell and Ms. Sophia Brown. Mrs. Glennis Vlaun has been re-appointed by the Minister of TEATT and in the first member meeting she was selected by her peers as chairperson of the Supervisory Board.
Last year September, the term of the first appointed Supervisory Board members ended. The Director takes this opportunity to thank Ms. Melinda Hoeve, attorney at law of the firm Hoeve & Rogers and Mr. Ahmed Bell, Managing Director of Principle Accounting and Consulting Services B.V. for their three years of service to the Bureau. 
The Director has scheduled a series of meetings with the new Supervisory Board members to discuss the role of the Bureau in our community, the Bureau's finances, IP awareness on Sint Maarten, past activities and accomplishments of the Bureau as well as other ongoing matters. In addition, the Director gave a number of presentations on intellectual property rights applicable to Sint Maarten and highlighted both its regional as well as international partnerships (Benelux Office for Intellectual Property, the Kingdom Patent Office in the Netherlands, regional IPO's ) and memberships (The World Intellectual Property Office, International Trademark Association and the Intellectual Property Caribbean Association).
 "I feel like I have been part of the BIP team for longer than the actual time. The information provided, the enthusiasm about intellectual property rights and the welcoming atmosphere of both the Director and the BIP team has been invigorating. I look forward to the further growth of BIP," says Dr. Arrindell.
The Honorable Minister of TEATT, Mr. Stuart Johnson said, "the government of Sint Maarten strives to sustainably redevelop the island's economy after the devastation caused by hurricanes Irma and Maria. The protection of Intellectual Property (IP), amongst other things, can spur economic growth by creating new jobs and industries which enhances the quality of life for the community at large. During my tenure as Minister of TEATT, I have witnessed the Bureau's commitment to adhere to a transparent and corporate social responsible way of managing the independent governing body. I am convinced that under the supervision of the newly installed board, the Director of the Bureau, Mrs. Vincentia Rosen-Sandiford, and her team will ensure that the organization will continue to be effective in the registration and raising awareness of IP rights in the community. I congratulate the new board and wish them success in their endeavor to ensure a high quality of service to the community."