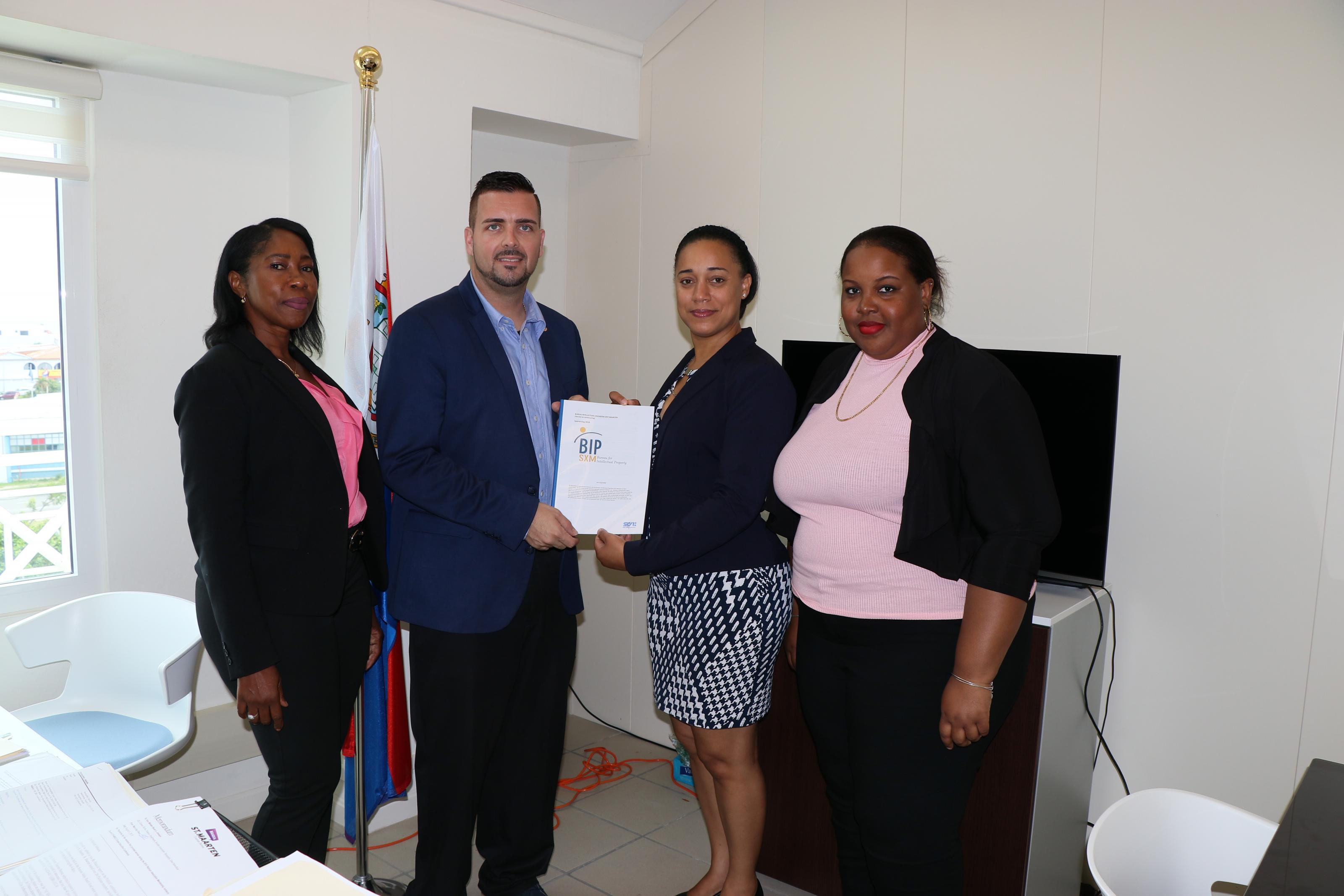 from left to right: Mrs. Glennis Vlaun (Chairperson), Ms. Sophia Brown (Vice Chairperson), Honorable Minister of TEATT, Mr. Stuart Johnson, Mrs. Vincentia Rosen-Sandiford (Director) and Dr. Rhoda Arrindell (Member).
The Bureau for Intellectual Property Sint Maarten (the Bureau), Supervisory Board members and Director met with the Honorable Minister of Tourism, Economic Affairs, Transport & Telecommunication (Minister of TEATT), Mr. Stuart Johnson to present the Financial Statement 2018.
The 2018 theme for the Financial Statement is 'Recovery and New beginnings'.
"The devastating (after)effects of hurricanes Irma and Maria in September 2017 have, as expected, had a major impact on the entire region and on Sint Maarten. The year 2018 thus, was a period of recovery also for the Bureau. Although the road to full recovery is long, together we can all contribute towards Sint Maarten's growth and this is what the Bureau aims to do. The Bureau looks forward to being more visible in the public by creating more awareness about intellectual property rights which will aid in the further development of the country's economy." said the Director.
In addition to the Financial Statement 2018, ongoing matters of the Bureau and its Supervisory Board were discussed with the Minister of TEATT. The multi-annual budget and policy plan 2020-2024 is scheduled for submission before the end of 2019, which will conclude the Bureau's financial reporting for this year.
"The Financial Statement 2017 of the Bureau were approved earlier this year and I intend to finalize the review and subsequently approve the Financial Statement 2018 within short. I look forward to the increase in awareness regarding intellectual property rights by the public and more specifically business owners. The small and micro businesses, the creative industries all have valuable rights to be exercised through the use of intellectual property. I encourage the community to visit the Bureau's website and social media platforms for all information related to IP and the latest in IP news." said Minister Johnson.
The Bureau registers trademarks and provides information about other areas of Intellectual Property, such as patents and copyright, to the public. More information regarding the Bureau and its services can be found on www.bip.sx and on social media (Facebook and LinkedIn).